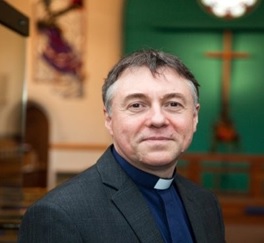 The Rev'd Peter Rayson
In the name of Jesus Christ, a very warm welcome to our website and to our church.
Wesley and King's Somborne Methodist Church strives to be a visible and vibrant Christian presence in our communities. We offer opportunities to share in worship in different ways, usually traditional on Sunday mornings but also offering regular opportunities for Messy Church and Lego Church. Sunday worship is also live-streamed most weeks for those who are unable to attend in person. As well as worship, we have other opportunities to gather both for social activities and for deepening our Christian discipleship for all ages. All are invited and welcome to join in these activities, whether regular members of our congregation or not. You can find out about all these activities on the website.
As Methodists, it has always been important for us to be engaged with our wider communities, beyond our own walls, and alongside the activities we host, we are also actively engaged with our local schools, with the Winchester Basics Bank and with other churches in the Winchester area. Further afield, we support the work of The Brickworks in South Sudan and the global work of WaterHarvest. Our Cafe´ Wesley is held monthly and raises money for different charities according to current needs.
I am the Minister for Wesley and King's Somborne but, as with all vibrant churches, it is our team of volunteers who really hold things together and enable us to offer all that we do. As I am also the Superintendent Minister of the Winchester, Eastleigh and Romsey Circuit, I very much rely on their willing and generous gifts of time.
We welcome those who are actively exploring the Christian faith or those who are just curious and we can offer baptism and membership to those who feel called. We can also offer Christian marriages and funerals to anyone who seeks one. Please contact us to discuss.
I hope that you enjoy browsing our website and we would very much welcome your feedback through the "Contact us" page.